The handmade glass Angels' Share Whisky Dropper is perfect for you, if you like to add a drop of water to your whisky.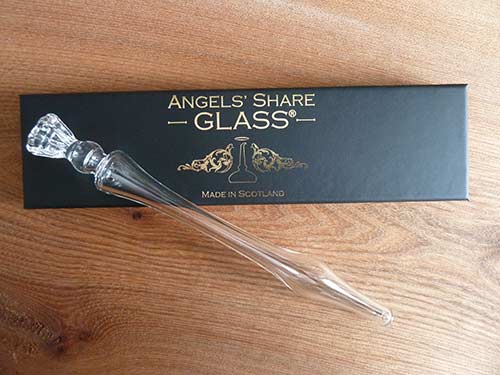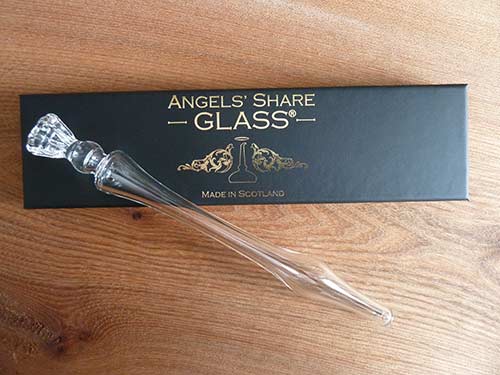 I first came across The Angels' Share Whisky Dropper on Twitter and was very excited. I'm embarrassed to say we were using a syringe to drop water into our drams and this looked a lot more attractive than our current tool. Plus it didn't make you think of hospitals.
The Angels' Share Whisky Dropper is hand-crafted from glass and its design allows greater control over your whisky dilution as it only releases one drop at a time. I think every bar selling whisky should have one of these as it's much better than the usual jug of water.
What is the Angels' Share Whisky Dropper?
The Angels' Share Whisky Dropper is a 200mm (approx.) long glass pipette with a decorative glass topper. You can choose from a whisky pot still, an angel, a thistle or a Nessie topper. Each dropper comes in a gift box and they make great present. They also make pocket versions which come in a Harris tweed or leather case.
About Angels' Share
Angels' Share based in the Bridge of Allan in central Scotland is run by Tom Young, Master Glassblower, and his daughter, Karen. Their glassware products is used by some of the world's leading distillers in the distilling process. They also produce a range of whisky gifts including droppers, glasses and decanters. Their namesake product, the Angels' Share Glass Whisky Angel, is a hollow, ornamental angel containing a dram of your favourite whisky to keep forever. The idea for the angel came about after watching Ken Loach's film, The Angel's Share, which is definitely worth watching. Tom has been glassblowing for almost 60 years and he has had many commissions including the glass element of the Johnnie Walker Golf trophy. He has also produced almost every spirit safe bowl in every Scottish distillery.
Where to buy Angels' Share Whisky Dropper
You can buy an Angels' Share Whisky Dropper from from Amazon or direct from their website. They are also available in some shops and we bought ours whilst on holiday in Scotland from The Green Welly gift shop in Tyndrum.
We have more Scottish whisky gift ideas in our gift guide post.
You may also be interested in