The best beaches in Scotland are some of the best beaches in the UK and even the world. It's rumoured that the beaches in the Outer Hebrides have even featured on some tourism marketing material for Thailand.
The best beaches in Scotland: Highlands & Islands
I've picked some of what I consider to be the best beaches in Scotland and some that are on my list to visit. Whether it's a gorgeous summer day or a winter storm is blowing, I think these beaches will be stunning.
Clachan Sands, North Uist, Outer Hebrides
This is one of my favourite Scottish beaches and the Uists offer a lot of competition. Flowering machair, white sands, turquoise sea and the mountains of Harris in the distance…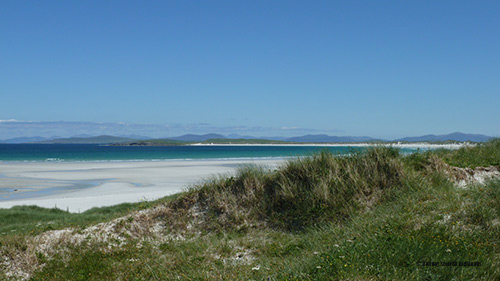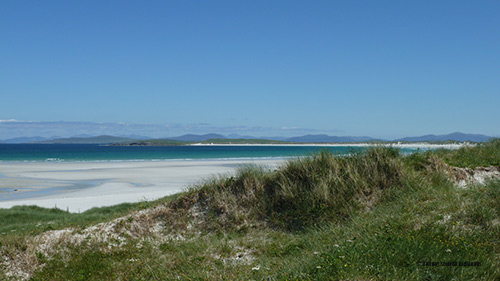 Stay on North Uist
Creagan Na Mara is a traditional stone cottage with a thatched roof. Conveniently located near the ferry port of Lochmaddy and situated near the shore making it a perfect romantic retreat for a couple who love watching wildlife.
Find out more about Creagan Na Mara.
West coast of Scotland beaches
Achnahaird, Coigach, Ross and Cromarty
As the sea withdraws from the salt marsh at Achnahaird, the glorious rose-gold sand beach is revealed. This photo was taken from the car park and I love the mountain backdrop.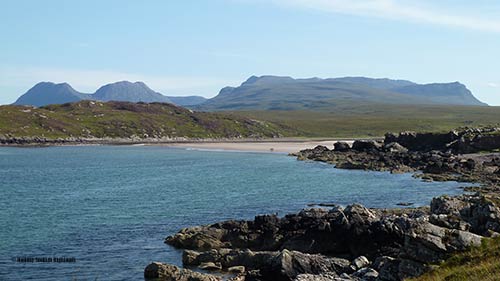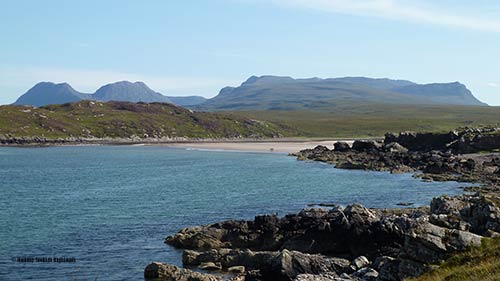 Holiday cottage near Achnahaird beach
Patagonia is a white-washed cottage with incredible views across the sea to the Summer Isles and located on the Coigach peninsula near Achiltibuie.
Book and find out more about Patagonia.
Sanna Sands, Ardnamurchan
A cloudy day still can't diminish the beauty of this bay on the Ardnamurchan coast, not far from Ardnamurchan Point, the most westerly point of the UK.
Holiday cottage near Sanna Sands
Picture yourself on the veranda of a log cabin lost in the mountain and sea views, interrupted by the occasional eagle gliding past. Craigard is on a peaceful croft in a remote part of the Scottish Highlands and just a short walk from Sanna beach.
Book and find out more about Craigard log cabin.
Silver Sands of Morar, near Mallaig
The Silver Sands are a dazzling (if the sun's out) series of beaches along the west coast of Scotland from Arisaig to Mallaig. Morar beach is easily accessible from the road and if you're lucky you may also see the steam train puffing along the track as seen in the Harry Potter films.
Local Hero film location
Morar beach also featured in the great 1980s film, Local Hero, starring Burt Lancaster, Denis Lawson, Peter Capaldi, Fulton Mackay and Jenny Seagrove.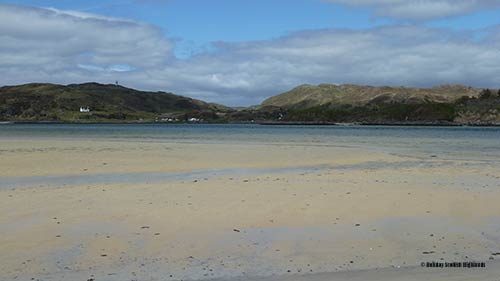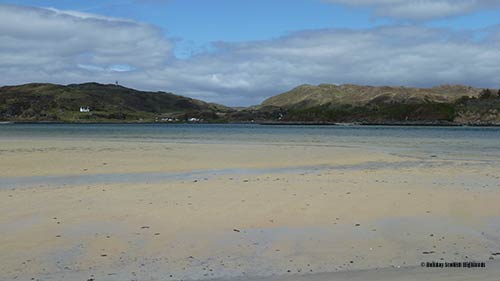 Sandwood Bay, Kinlochbervie, Sutherland
Remote Sandwood Bay is often called the most beautiful beach in Great Britain, not just in Scotland. For those making the 4-mile walk, the reward is a freshwater loch, sand dunes, over a mile of pink sand and the photogenic sea stack of Am Buachaille.
There is no road access to Sandwood Bay but there is parking available in a car park in Blairmore. The bay is part of the Sandwood Estate which is run by the John Muir Trust.
Holiday cottage near Sandwood Bay
The Cottage at Sheigra is the perfect holiday cottage for exploring a beach considered to be the best beach in Scotland as you can walk to Sandwood Bay from the cottage. The cottage offers peace and tranquility plus a chance to see the northern lights due to the lack of light pollution.
Book and find out more about The Cottage.
Uig Bay, Lewis
Beach Bay Cottage
Beach Bay Cottage leaves you in no doubt how it got it's name as it's design makes the most of the incredible views over Uig bay. The living space has an 180-degree bay window overlooking the beach. Beach Bay Cottage is inspired by neolithic designs with it's stone and turf roof but inside it's all about luxury with a sauna and jacuzzi bath.
Book and find out more about Beach Bay Cottage.
Barra Airport, Traigh Mhòr, Barra, Outer Hebrides
Barra Airport is not your usual airport. Traigh Mhor bay provides the runway which is a beach landing strip disappearing under the sea twice a day at high tide. This unusual airport runway is also a stunning beach in a landscape of machair and the hills of Barra. Traigh Mhor beach is said to be the only beach runway in the world handling scheduled airline services.
St. Ninian's, Shetland
St Ninian's is a sand tombolo (or bar) which joins Mainland Shetland to St Ninian's Isle. Visit this beautiful Scottish beach and you actually get two beaches with different characters. A rich Pictish treasure hoard was found in the ancient Chapel site on the island of St. Ninian's.
Book a hotel in Shetland
Shetland has a range of B&B and hotel accommodation to suit all budgets. Book your Shetland hotel.
Luskentyre, Isle of Harris, Outer Hebrides
Harris and Lewis have some stunning beaches but if white sand, blue sea and mountains are your thing then Luskentyre will hold a special place in your heart. Photographer and Harris addict, Christopher Swan, picked Luskentyre as the best beach in Scotland in his Local Tips: Beautiful places in Scotland's Highlands & Islands – Christopher Swan, photographer. Looking at this photo, we can see why!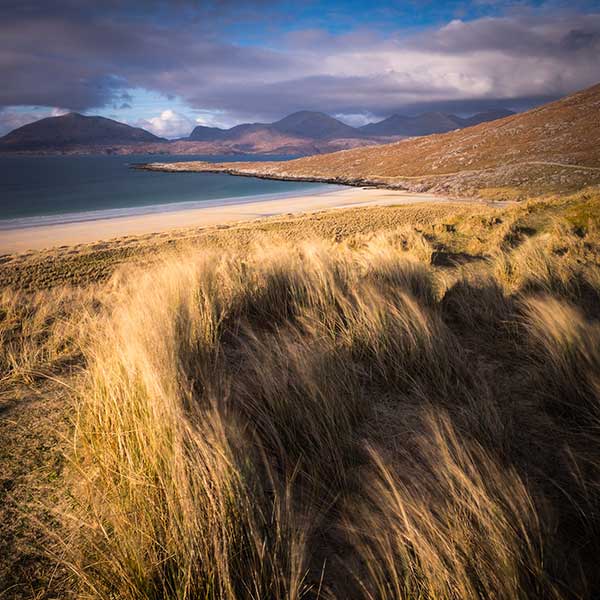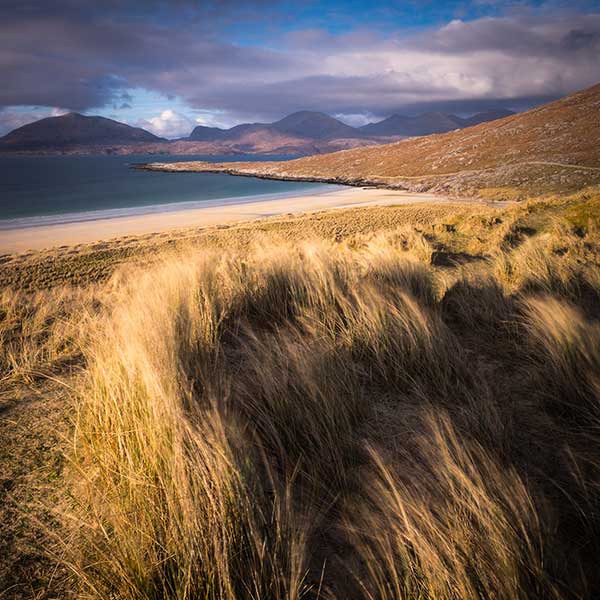 Achmelvich Beach, Assynt
Achmelvich beach is a breath-taking mix of turquoise sea, powder white sand and flowering machair and has to be seen to be believed.

Stay near Achmelvich beach at Split Rock Croft Cottage
Split Rock Croft Cottage is set on a working farm with views across the countryside to the sea. It's location is great for exploring Achmelvich beach, Clachtoll beach and other Assynt beaches.
Book and find out more about Split Rock Croft Cottage.
So what have we missed. I'm sure you have your own favourite Scottish beaches. Please share your best beaches in Scotland in the comments or tweet us a photo @holidayhighland.