Seán Kerr is an award-winning Scottish landscape and nature photographer. He is a natural world lover, who strives to capture the look and feel of nature's beauty faithfully and with integrity. He particularly enjoys taking photos of the Isle of Harris in the Outer Hebrides.
Freedom of Luskentyre
A white horse on the sand dunes of Luskentyre Beach on the Isle of Harris, highlighted by typically pure Hebridean light and standing out against the equally typical brooding sky.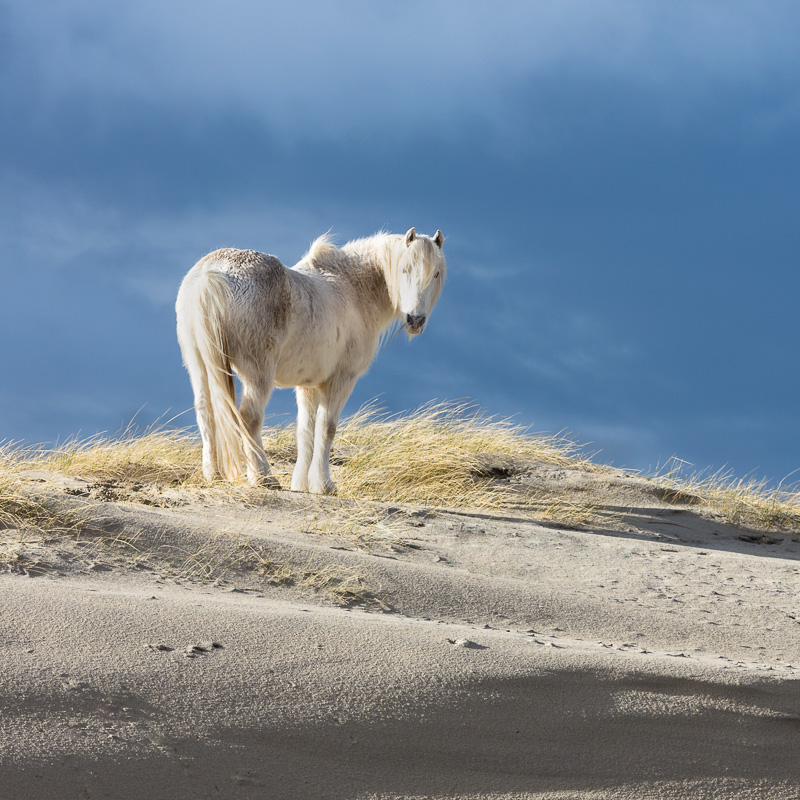 We came across him on Twitter when he was tweeting about his upcoming photography exhibition of images of the Isle of Harris on the Outer Hebrides.  Sean tells us more about how his passion for photography and the Isle of Harris is such a special place for him.
Sound of Taransay
A view over the Sound of Taransay and the west coast of Harris from Ceapabhal on Toe Head. This is a great spot to get a perspective of the stunning beaches of Scarista leading up to Rosamol at Luskentyre, with the partially snow-capped Forest of Harris (North Harris Hills) beyond.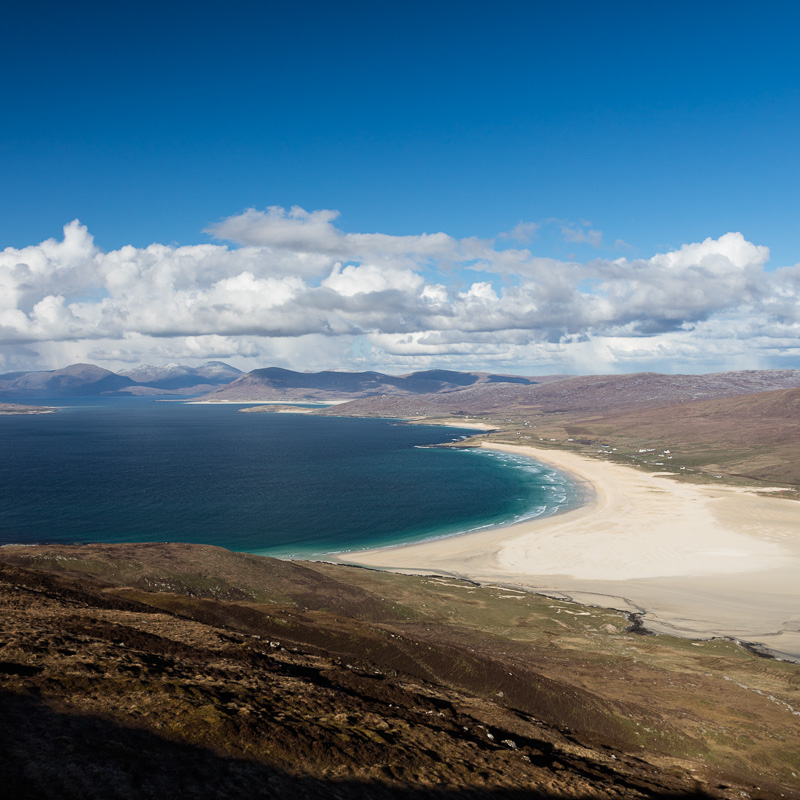 "I've always loved nature and the outdoors and, although I had an interest in photography in my late teens and early twenties, mainly through photographing samples in a lab, it was a family holiday in the Western Isles that really ignited that interest. It also made me realise what beauty I'd been missing by not having visited the isles before. In my business career, I travelled the world extensively and I have to say that there is something exceptional about the Western Isles and I felt myself being drawn back to Harris, in particular, time and again. This has resulted in me building a body of work that I hope evokes the same emotion in viewers that I feel when I'm there.  Hopefully I've captured both the look and the feel of this very special place."
In Balance
Impressionist image of Tràigh Scarista on the Isle of Harris. Taken not long after sunrise in February 2017, the lilac tones in the sky are gorgeous against the aqua and white sea and the light sand. Scarista Beach is possibly my favourite spot on Harris. It speaks to me and this image recreates the feeling of an almost dreamlike calm, balance and contentment that I get when I spend time there.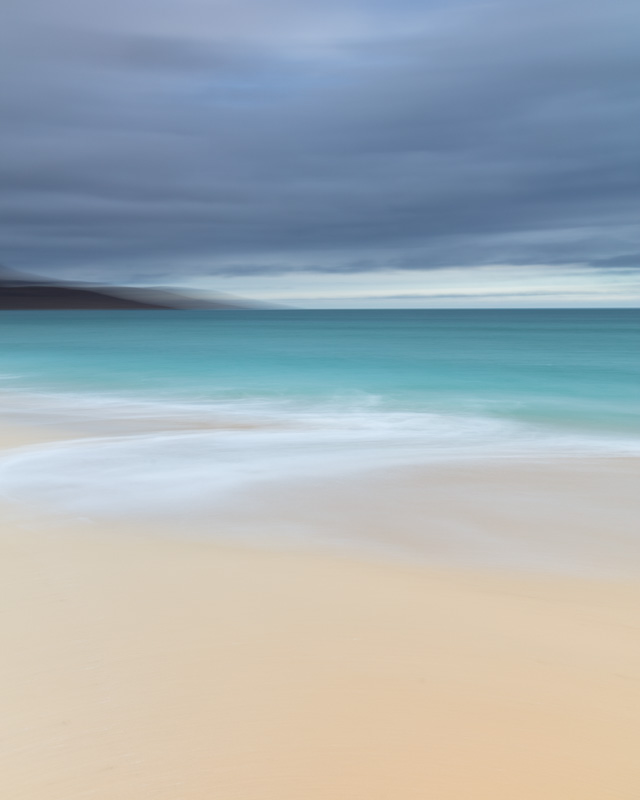 "The exhibition name was quite hard to choose and several key words jumped out at me… 'awe', 'contentment', 'dream', 'ethereal'.  In the end, 'wonder' probably sums up how I feel about Harris."
Path Least Travelled
Footprints on the white sands of Luskentyre on the Isle of Harris at sunset.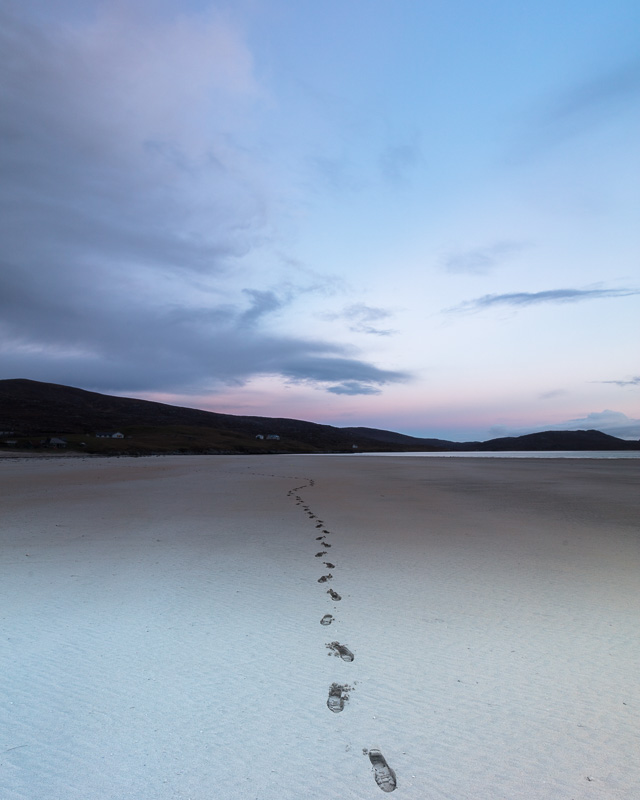 Seán's portfolio covers a wide range of Scotland's most stunning locations but the Isle of Harris is where he feels at most at home and inspired.
Sun and Rain
The Outer Hebrides is prone to very changeable weather and light, and the latter can be remarkable, with a quality and purity seldom matched anywhere else that I've seen. If you don't like the weather, wait five minutes! In this case, sun rays streamed through a break in the windswept clouds, highlighting a rainshower, and the refracted light formed a rainbow. Sound of Taransay and Luskentyre Beach on the west coast of the Isle of Harris, looking towards the North Harris Hills (Forest of Harris).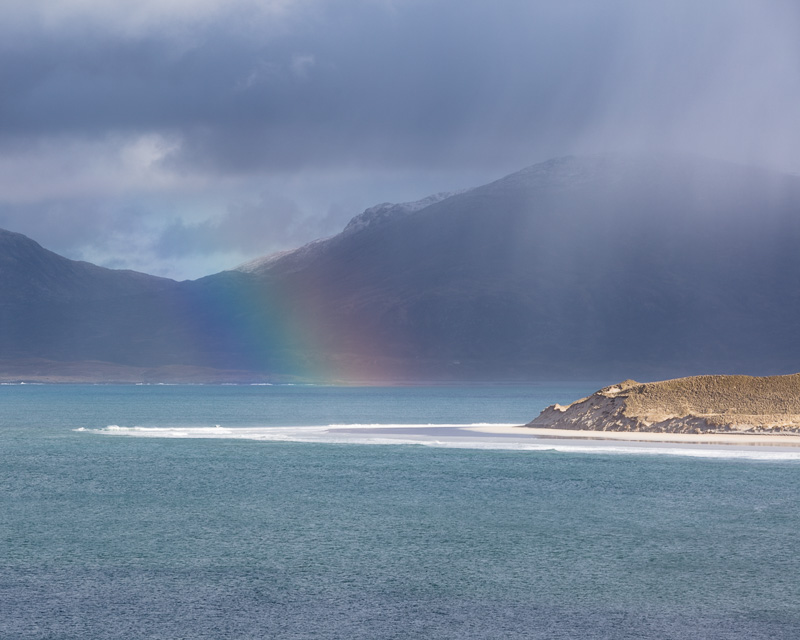 'The natural beauty of Harris is breathtaking and, when combined with the ever-changing weather and the remarkable purity of light, is an artist's dreamland.  When I'm here, I just feel right'.
The Wonder of Harris photography exhibition
If you're on Harris or Lewis in July, you'll be lucky enough to have the chance to visit the exhibition which takes place for the month of July 2017 at the Talla Na Mara Arts and Entertainment Centre, Pairc Niseaboist, Isle of Harris, HS3 3AE.
Open Monday – Sunday 9am – 9pm – Free entry
Wall art and fine art prints of varying sizes are available for sale and there will be 32 images on display.
… all's well that ends well
A glorious sunset on the last day of another week on my favourite island. Taken from the top of the large dunes at Luskentyre, overlooking the Sound of Taransay, with Ceapabhal (Toe Head) on the left and Taransay on the right and the expansive white sands of Tràigh Rosamol.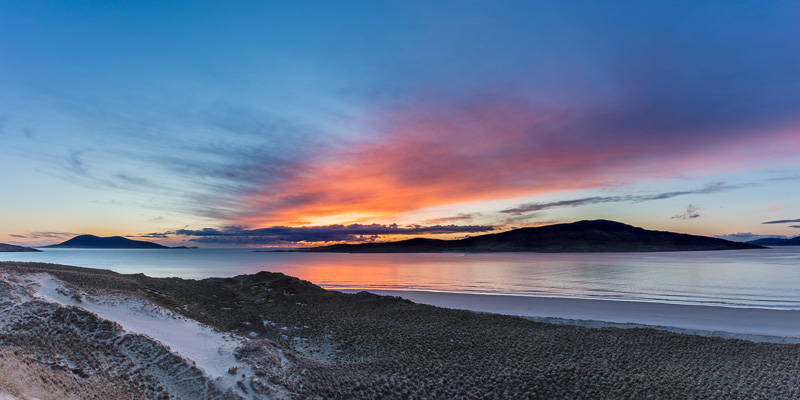 Find out more about Sean Kerr
We think Sean has definitely achieved his aim of capturing the look of this incredible place. If you'd like to find out more, visit Sean's website to see more of his fantastic photos and there is also an online shop:
Want to find out more about the Isle of Harris and the Outer Hebrides?
The Isle of Harris seems to inspire lots of photographers and we are a big fan of Christopher Swan's work. Christopher shares some of his photos and tips on Beautiful places in Scotland's Highlands & Islands on our blog.
Plan your visit to the Isle of Harris or another one of the Outer Hebrides (we love the Uists) by checking out our accommodation listings for the Outer Hebrides.